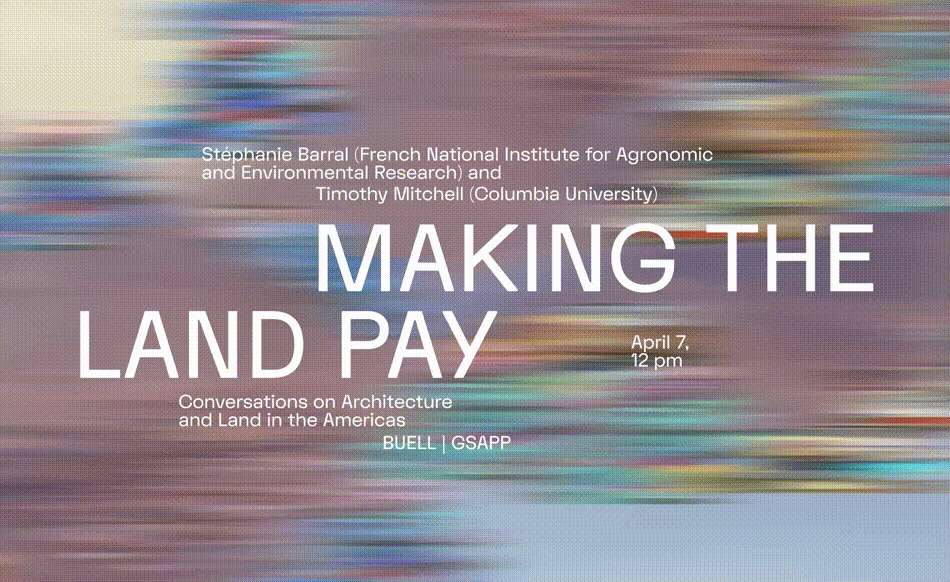 April 7, 12pm
When the architect Cass Gilbert described the skyscraper as a "machine that makes the land pay" in 1900, the pressure was growing for architects to build and design ever-faster. He set the stage for a century's worth of discourse about the relation of building and land, one in which a building simply multiplies the value of a plot of land in the vertical dimension. But if his quip continues to ring true, it is sorely in need of a technopolitical update.

For this event, after an introduction by Lucia Allais (Director, Buell Center), Timothy Mitchell will present on the the Urban Property Rights Project, an initiative led by the World Bank from 1998–2004 that facilitated the titling of already-built, working class housing in and around Lima, Peru. With ramifications ranging from local labor markets to the discipline of economics itself, Mitchell will ask with what, for whom, and to what ends, "natural" experiments on the land are designed to work. Then, following Mitchell, Stéphanie Barral will discuss "conservation banks," landed financial instruments that, like the property title, are engineered to encourage development as a "win-win" for both local and distanced interests. But in her presentation, focusing on a specific site and beetle in Oklahoma, Barral will show that the "natural" features meant to be protected by these instruments are put in at times irresolvable tension with the imperatives of changing landscapes, growing markets, and diversifying human and more-than-human habitats.
Timothy Mitchell writes about colonialism, political economy, the politics of energy, and the making of expert knowledge. Trained in the fields of law, history, and political theory, he works across the disciplinary boundaries of history and the social sciences. Many of his writings explore materials from the history and contemporary politics of Egypt, where he has conducted research over many years. He is currently working on a study of durability, examining how the more durable apparatuses for capturing wealth characteristic of late nineteenth-century colonialism (railways, canals, apartment buildings, dams) engineered a new method of extracting income from the future—a future we now inhabit precariously today. Like much of his work, this research combines the study of the built world, technical devices, ecological processes, and the history of economic and political concepts. Mitchell is the William B. Ransford Professor of Middle Eastern Studies at Columbia University. He is based in the Department of Middle Eastern, South Asian, and African Studies, for which he served as chair from 2011 until 2017. He also teaches occasionally in Columbia's School of International and Public Affairs.
Stéphanie Barral is a social scientist at the French National Institute for Agronomic and Environmental Research (INRAE), with expertise in economic and political sociology. Her work focuses on the rise of private investments within environmental and agricultural policies. Her first book (Capitalismes Agraires, Presses de Sciences Po, 2015) analyzes the growth of capitalist palm oil plantations in South East Asia despite social and environmental criticism. Her ongoing research deals with the construction of markets as institutional answers to environmental issues. Through the cases of biodiversity and carbon markets, she explores the interplay of scientific knowledge, expertise, regulations, markets, and finance in the making of environmental policies, with investigations in France and the US.