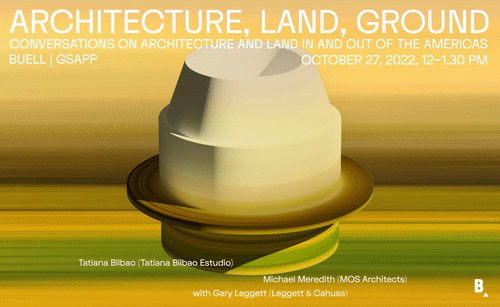 October 27, 2022, 12pm 
Modern architecture's social aspirations always seemed to require a lot of land—this is one of its most mixed legacies. In this conversation, architects Tatiana Bilbao, Michael Meredith, and Gary Leggett compare notes on recent and current projects in Mexico, Paraguay, and Peru that cover vast ground. They will address the formal and social possibilities that are opened by large-scale buildings in these different social and political contexts, including land-intensive housing projects, parks, and long-distance works such as pilgrimage routes.
Tatiana Bilbao, architect, born in 1972, began her eponymous studio in 2004. Prior to founding her architecture studio, she was an Advisor in the Ministry of Development and Housing of the Government of the Federal District of Mexico City. Bilbao holds a recurrent visiting teaching position at Yale University School of Architecture and has taught at Harvard University GSD, Columbia University GSAPP, Rice University, AA in London Summer School, University of Andrés Bello in Chile, and Peter Behrens School of Arts at Dusseldorf in Germany. Bilbao's studio has work across typologies and in different parts of the world, for which she has been recognized with several distinctions, among those: the Kunstpreis Berlin in 2012, the Global Award for Sustainable Architecture Prize by the LOCUS Foundation in 2014, the Marcus Prize Award 2019, Tau Sigma Delta Gold Medal of the ACSA 2020, Honorary Fellow of the Royal Architectural Institute of Canada (RAIC) 2021, and the Richard Neutra Award in 2022.
Michael Meredith is a partner at MOS with Hilary Sample, and a Professor at Princeton University School of Architecture.
Gary Leggett is a Peruvian architect, founder of Leggett & Cahuas. He is a professor at the Pontificia Universidad Catolica del Peru (PUCP) in Lima and serves currently as deputy director at the Center for Architectural and Urban Research (CIAC) at PUCP. Leggett holds a B.A. in architecture from Princeton University and master's degree in architecture from Yale University. He was the recipient of the 2012 George Nelson award at Yale, the 2008 Ronald Druker Fellowship, and the Stanley Stein Thesis Prize at Princeton. He was also a researcher in design at the Jan Van Eyck Academie in Maastricht from 2009 to 2010.
Organized as one of the  "Conversations on Architecture and Land in and out of the Americas" by the Temple Hoyne Buell Center for the Study of American Architecture at GSAPP.